My Pottery Barn Inspired Vase
First off, let me appologize for being mia for a couple days, I have been super busy, and super back to work :( But I'm back!
As I mention is a previous post, here. I have this vase(below)
that I'm just not diggin anymore. They have been sitting in my garage. And after a little inspiration surfing, I wound up at Pottery Barn (who doesn't end up there?) And was inspired by these...
So after some thought, I decided to texture my vase first with some tissue paper
once it dried for about 1 day, I took it out to spray paint it... (missed these pics, sorry) Well I painted it a dark green first, then a lime green.
There just wasn't enough depth to the color...so I brought the vase is and sponged some white craft paint randomly all over it, that was way too stark, so I took some espresso stain, and smeared it all over, then wiped it off. The dark color gathered in the cracks and crevices just right...and here it is...
Now to add the net...What made me decide on this design, was this fishing net decor I found at the dollar tree....
I was super jazzed when I saw it, and it worked perfectly. I stretched it across the vase, and cut...then tacked it on with scotch tape, until I got it how I wanted it,
then I used hot glue to stick each knot to the vase....this net ain't going anywhere :)
The whole thing came together real nicely! I like it alot!
Oh and Oh My Goodness!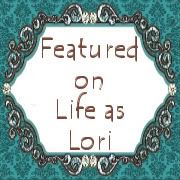 Oh and I'm going to be linking up to these great parties! Come join in!